Monday April 16th Demonstrations Cancelled Due to Weather

>>AGAIN!!<<
11th Carhart Late-Term Abortion Patient in Maryland taken to the Hospital by Emergency  Ambulance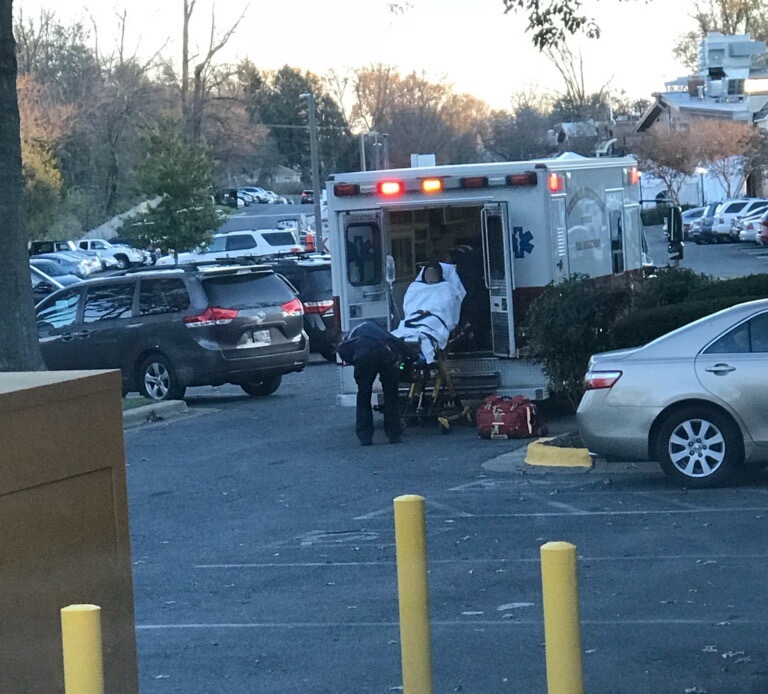 This is now the 11th patient in just over 4 YEARS Carhart has sent to the hospital by ambulance.
HOW MANY MORE WOMEN NEED TO BE PUT IN DANGER!?!?
Previously when Carhart was in Germantown 10 Mothers were Rushed to the Hospital by Ambulance:
10) February 7, 2017 - Patient bleeding heavily, extremely weak, and suffering severe abdominal pain. Lab tests reveal that her hematocrit and hemoglobin numbers were at "panic levels." 
9) April 4, 2016 - Hemorrhaging late-term abortion patient transported to emergency room. All other patients sent home.
8) March 30, 2016 - Private ambulance called for late-term abortion patient.
7) March 20, 2016 - Underaged woman transported to Shady Grove Hospital suffering "heart problems." 
6) January 19, 2016 - Late-term abortion patient bleeding seriously transported to hospital.
5) December 15 2015 - Abortion patient transported to emergency room.
4) July 2, 2014 - Abortion patient transported to hospital.
3) March 4, 2014 - Patient hemorrhaged after 2nd trimester abortion complications.
2) November 26, 2013 - Patient required emergency surgery.
1) July 9, 2013 - Patient hemorrhaged.

A special message for you - 
Remember this campaign is not just for those who participate by playing leading rolls to organize, plan, lead, send out notices, maintain and store signs and handouts, etc.  This campaign is for all pro-lifers concerned for the life of children victims of abortion and the victim mothers of those aborted children, especially at the late term abortionist, Carhart.  Able pro-lifers need to help this cause by their active participation to show that there is widespread revulsion against these demonic procedures.  Others need to help this cause by their prayers. We are all together in this campaign.  All of these efforts combined will keep the pressure on Carhart until he folds his tent and leaves. 

Thank YOU  to those who already responded to the call for help in the purchase of new signs to replace those that have been stolen, for the purchase of 1000 post cards [LINK] and $250 worth of stamps, to be mailed to, and passed out to, those associated with the building owner, Aubinoe, to encourage him to break Carhart's lease, and the purchase of new flyers to hand out to passersby and those entering and leaving they Wildwood Medical and Shopping Centers. To help with these expenses, Tax Exempt Donation Checks can be made out to "WAKEUP" and mailed to Dick Retta, 48 Orchard Way North, Rockville, MD 20854.

On Good Friday, March 30 come to pray the Stations of the Cross any time between 12:00 and 3:00 PM

WEEKLY STOP CARHART
Peaceful Demonstrations
>>MONDAY's 9:00-11:00AM
Please join us Mondays! Posters and Handouts Provided - Contact information: Dick Retta, dickretta61@verizon.net, 301 538 2500, or Missy Smith, mreillysmith@gmail.com, 202 288 4984
>>TUESDAY's 1:00-5:00PM, and 6:30PM Candlelight Vigil (bring yours!)
>>WEDNESDAY's 1:00-4:00PM
>>FRIDAY's 7:30AM-1:00PM

>>WHERE: Old Georgetown Rd [MAP]
Not too many folks there on any particular day? Just say HI and make some new pro-life friends! Better yet, be the first that comes and STANDS for LIFE. The babies KNOW YOU ARE THERE FOR THEM!

PROOF! Leroy Carhart performs abortions through 28 weeks on healthy women carrying HEALTHY babies LEGALLY in Bethesda Maryland.
SOURCE: LifeSiteNews.com - Abortionist (Carhart) will terminate 'developed' 26-week-old baby for $7k  [LINK]

Despondent property owner, Tripp Aubinoe, demonstrates dreary response to pro-life presence by erecting fence of senselessness, achieving nothing...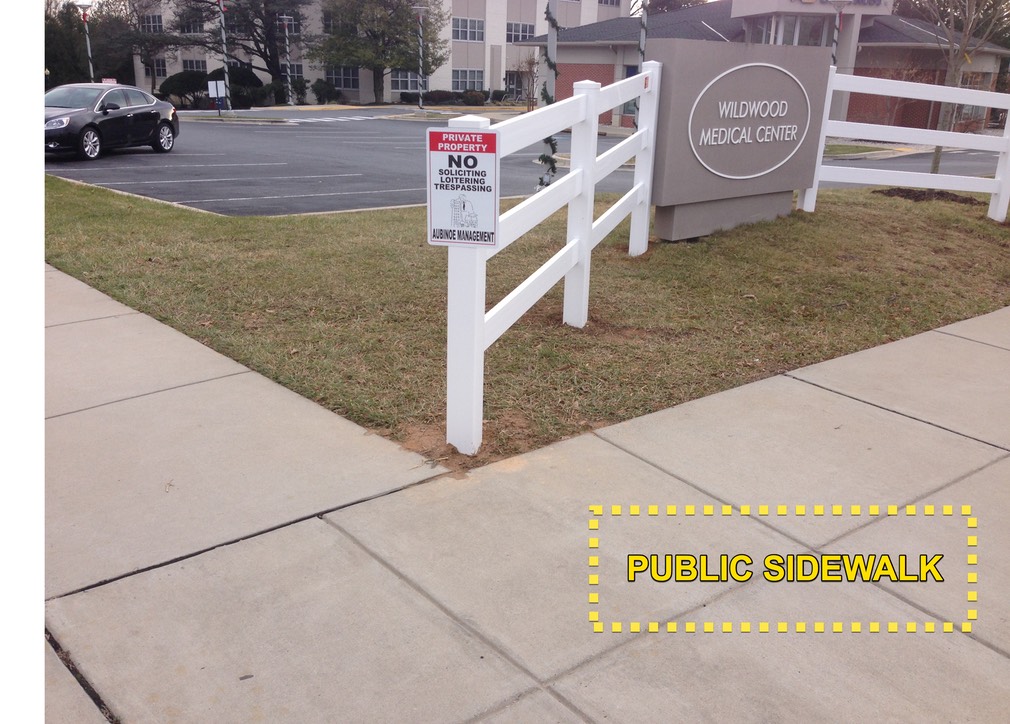 FACT: Protestors are within their rights to hold signs on the public sidewalk, and WILL continue to come!
FACT: Patients and clients are moving to professional services at other medical centers because of the horror that LeRoy Carhart has brought there.
FACT: Most all of the office residents in the Wildwood Medical Center are opposed to Carhart being there.  

Carhart is quoted as saying about Wildwood Medical Center owner, Tripp Aubinoe: "I've got a really, really supportive landlord."
Tell Tripp how YOU FEEL!
CALL HIM  301-656-9000, 301-841-6478

EMAIL HIM  ala@ala-inc.com

Pro-life Witnesses Pray for End to Abortion, Process to New Late-term Abortion Clinic

More than 100 people gathered at St. Jane de Chantal Parish in Bethesda on Dec. 10 for a Witness to Life Mass and Procession from the parish to the newly opened abortion clinic that is just a mile away. READ FULL ARTICLE HERE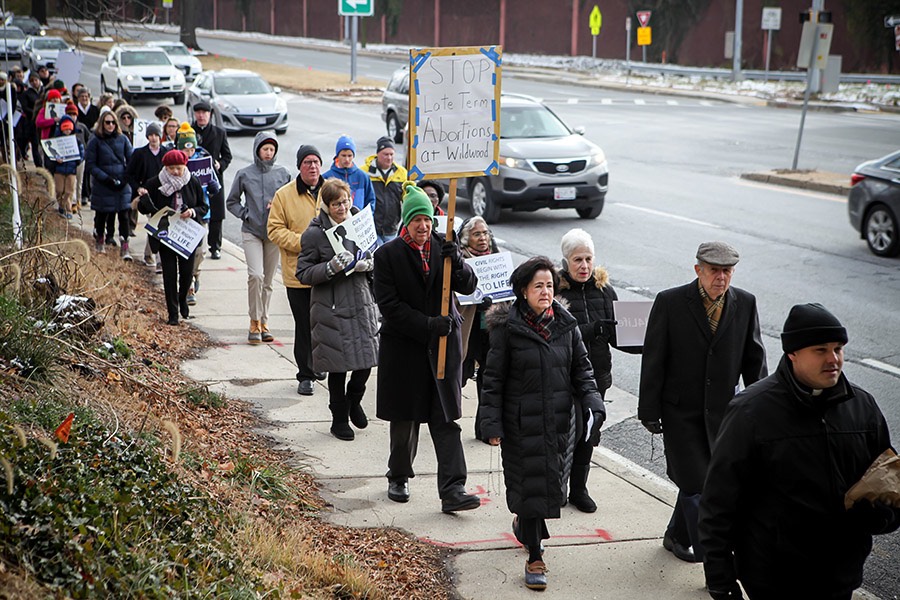 "We have walked to stand for what we believe in, let us never be afraid to profess the faith in our hearts" said Bishop Campbell in concluding the procession.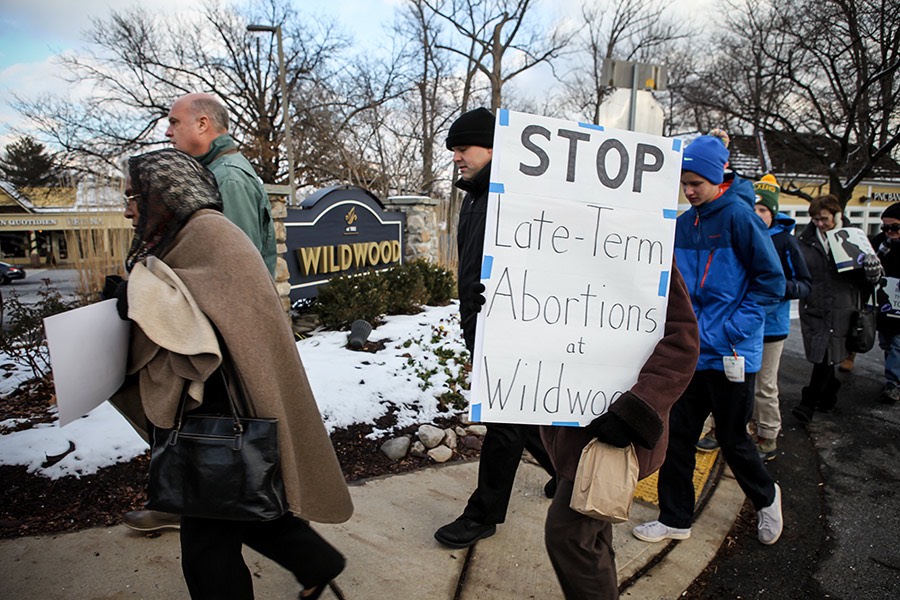 "Human life is so important. It is priceless."
 - Participant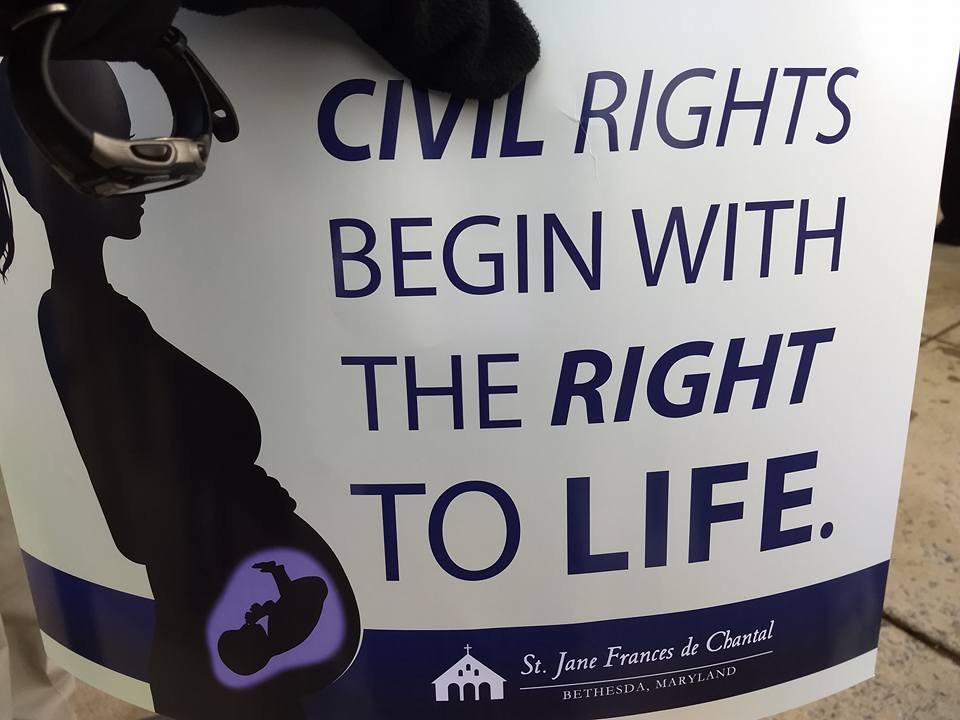 "We Shall Overcome"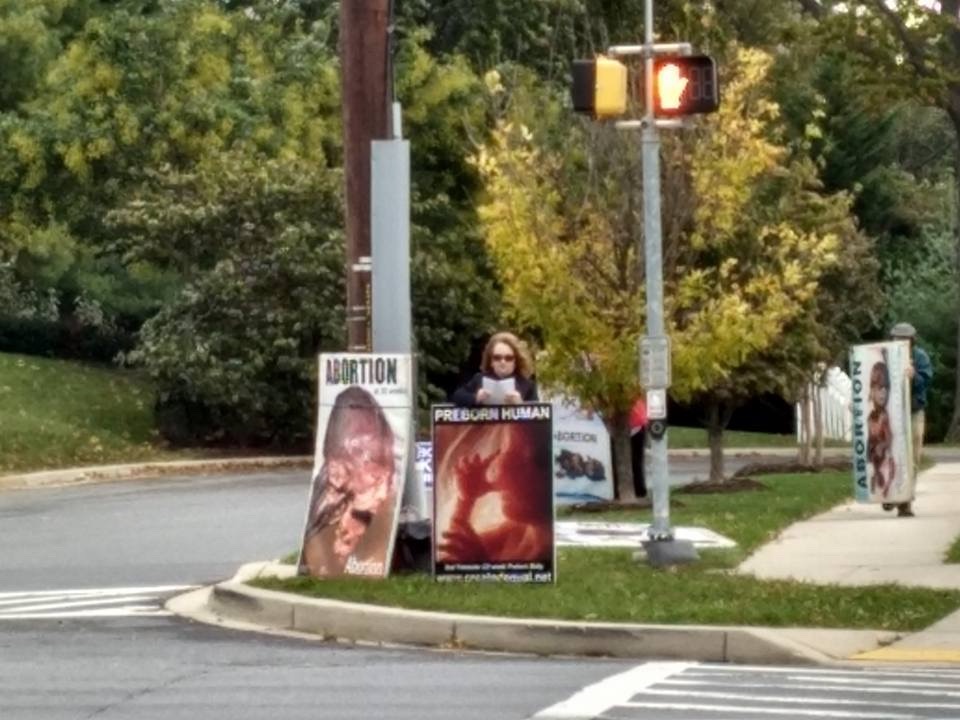 "Oh, deep in my heart, 
I do believe,
We shall have in peace in the womb, 
We shall overcome, someday."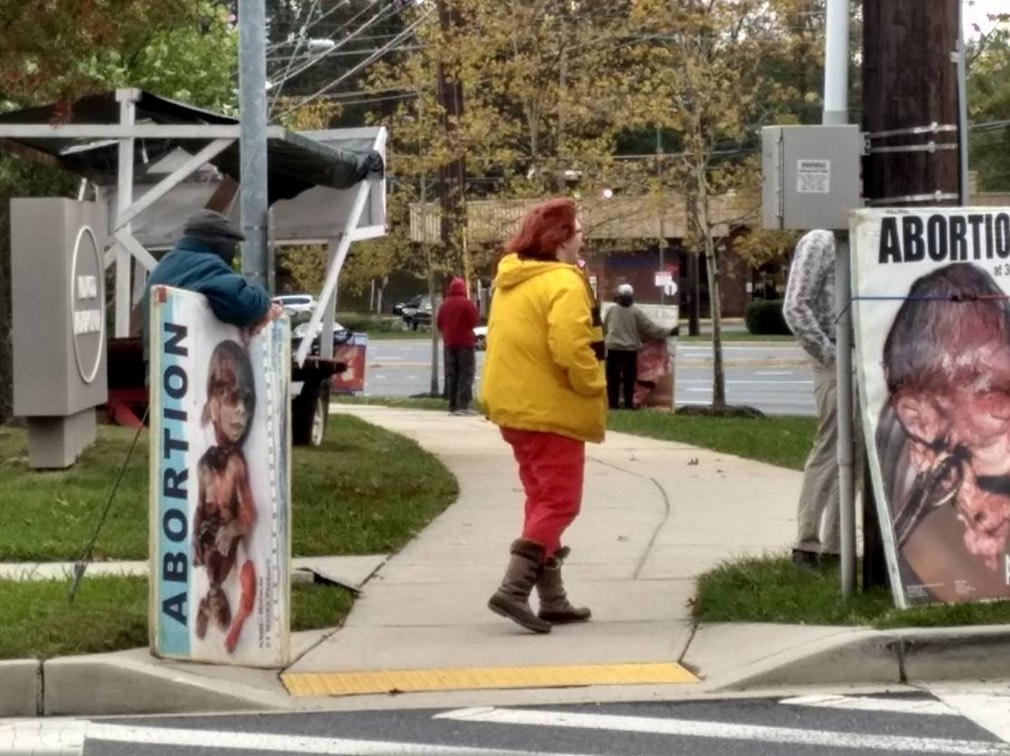 "Oh, deep in my heart,
I do believe
The whole wide world around some day,
I do believe
We shall overcome."
Adapted from 'We Shall Overcome' lyrics © Spirit Music Group, Songwriter: J. Peters

Carhart's Office Wall Art tells
Pregnant Moms in Bethesda -
'BE STRONG, KILL YOUR CHILD!'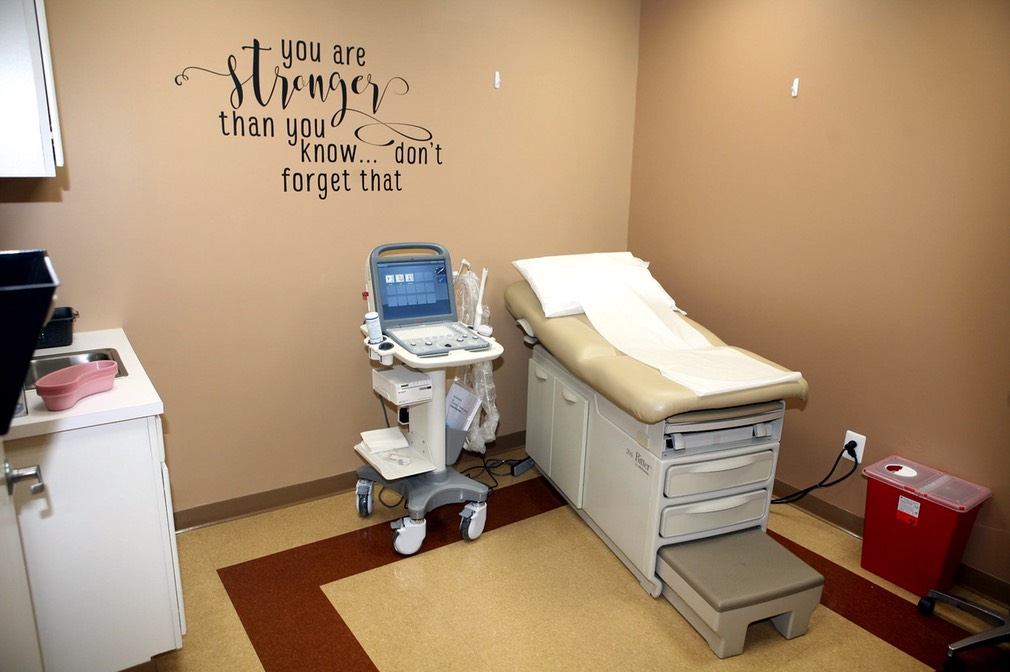 Halloween 2017 - All too Real in Bethesda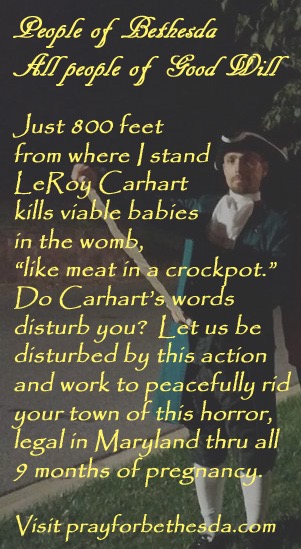 Actual TOWN CRIER on Old Georgetown Road Tuesday October 31st proclaiming the truth of what happens inside Wildwood Medical Center. 
While there on Tuesday, one gentleman stopped for a lengthy conversation to thank the participants on behalf of a friend who he has helped confront the painful regret of her abortion experience. 
AND MORE!

Would you Bring Your Loved One
to a Place Like This?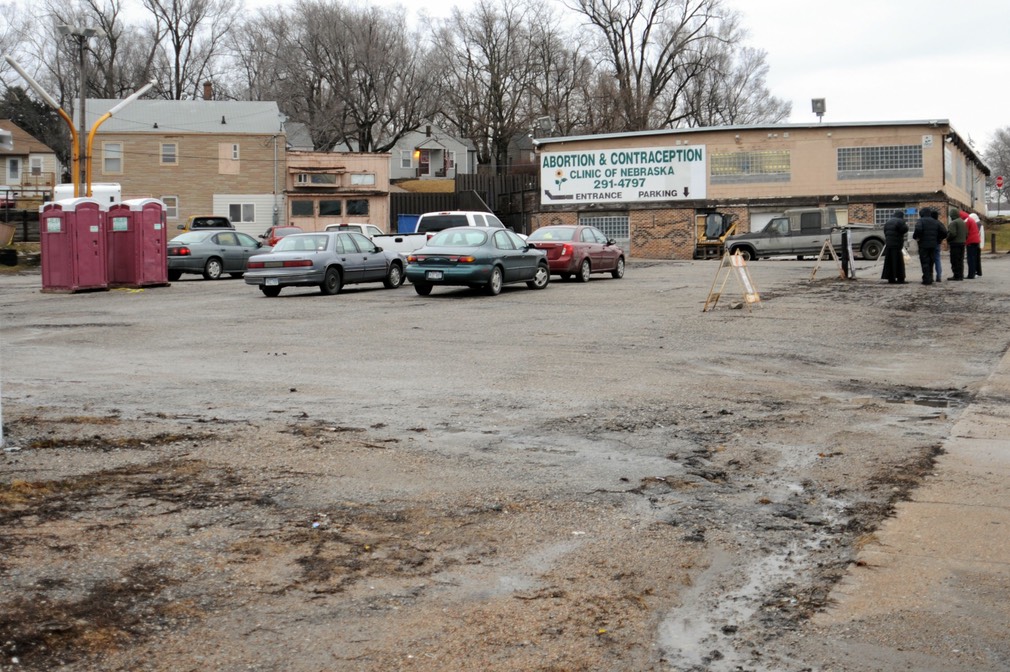 Behold LeRoy Carhart's Bellevue Nebraska Abortion Clinic - a former auto garage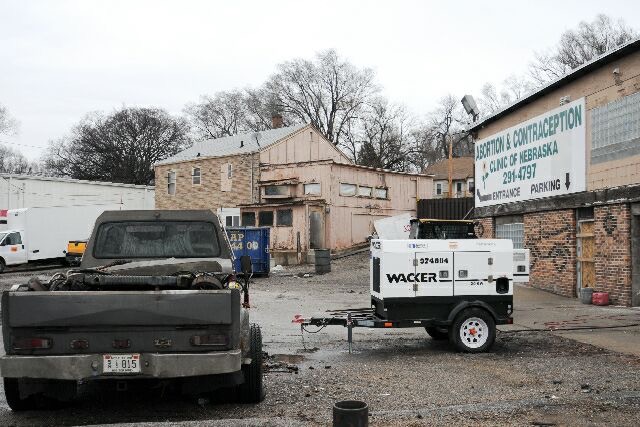 And YES...Ambulances Have Taken Away Patients from there AND Germantown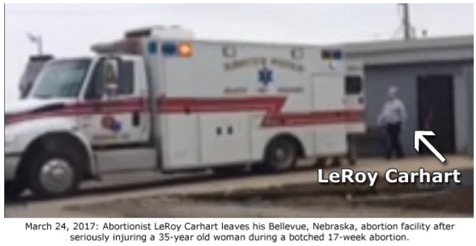 THE BOTTOM LINE: DANGER HAS COME TO BETHESDA FOR WOMEN
Read more about Bellevue, NE from Operation Rescue

Opening Day Appointments CANCELLED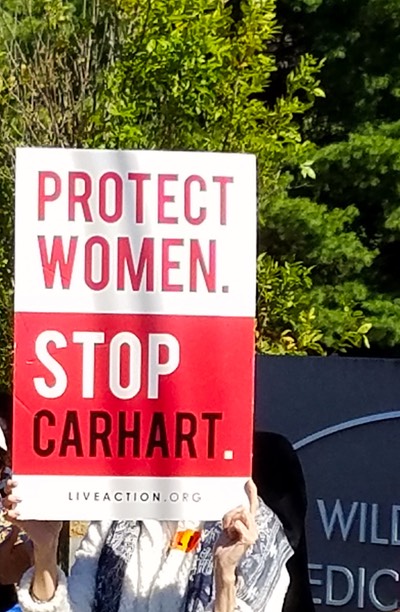 LeRoy Carhart, the notorious late-term abortionist, has relocated from Germantown Maryland to the Wildwood Medical Center at 10401 Old Georgetown Road, Suite 104 in Bethesda Maryland. Carhart's new business location is known as "AbortionClinics.org" and planned to open October 17th.
BUT in the face of a mass of Prayerful, Peaceful, Protestors, Carhart CANCELLED his late-term appointments on October 17th, the first day of his new clinic in Bethesda. View video/photos
>>WHAT CAN YOU DO?<<
>>GO TO the public sidewalk along Old Georgetown Road next to the Wildwood Medical Center (MAP). Bring Signs, Bring Friends, Bring Loved Ones! Once there Publicly, Peacefully, and Prayerfully Protest against Carhart's presence!
>>COME EACH MONDAY MORNING 9:00-11:00am, and TUESDAY EVENING at 6:30pm for a weekly Prayer Vigil. Can't make it Monday or Tuesday? Then COME ANY DAY!  COME AND STAND FOR LIFE~
>>CONTACT "ALVIN L. AUBINOE, INC." (ala-inc.com) the management services company for the Wildwood Medical Center and tell them what you think!
Alvin "Tripp" Aubinoe, III - President, Alvin L. Aubinoe, Inc.
7507 Arlington Road, Bethesda, MD 20814
301-656-9000
301-841-6478
ala@ala-inc.com
Maureen Bretz, Commercial Manager, Alvin L. Aubinoe, Inc.
7507 Arlington Road, Bethesda, MD 20814
301-841-6478
maureen@ala-inc.com
>>DO YOU KNOW any medical professionals currently operating at the Wildwood Medical Center? Contact them and tell them how outrageous it is to have such a atrocious abortion service available in their building! Ask them what THEY think it will do to THEIR business!
>>CONTACT YOUR Church and Religious leaders and tell about this atrocity and urge them to come to the sidewalk!

29 Year Old Mom DIED in Germantown Maryland from LEROY CARHART's Late-Term Abortion
On February 7, 2013 Jennifer Morbelli, a Germantown abortion patient of Leroy Carhart, died of 3rd trimester (33-weeks) abortion complications. She started suffering chest pain and other discomforts, and was unable to reach Carhart.  She was taken to an ER, which could not reach Carhart. She suffered massive internal bleeding in her abdominal cavity and slipped into a Code Blue condition approximately six times before dying. The Chief Medical Examiner ruled that she died because amniotic fluid from her womb spilled into her bloodstream, making her blood unable to clot.
SOURCES: 
Woman Died From Abortion Complications, USA Today, Jun. 12, 2013
Young Woman Who Died from Botched 33-Week Abortion Identified, Steven Ertelt, LIFENEWS, Feb. 10, 2013
BREAKING: Carhart's victims identified, Jill Stanek, Feb. 10, 2013